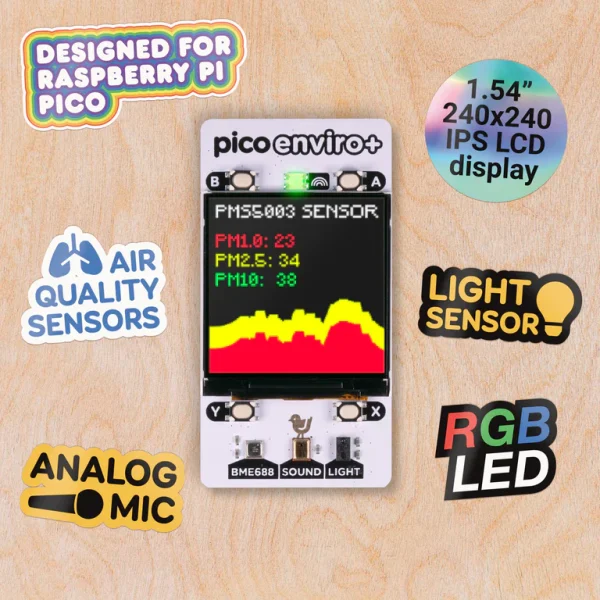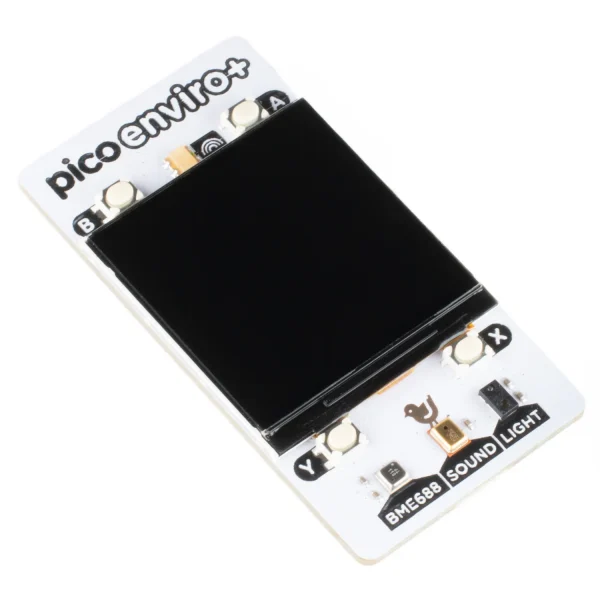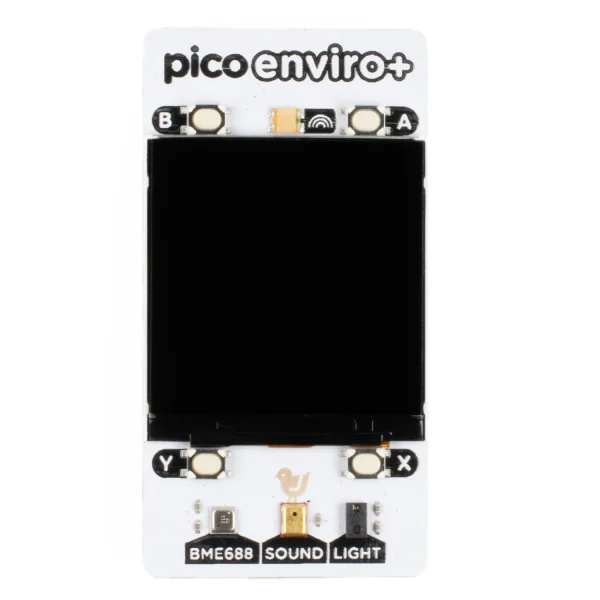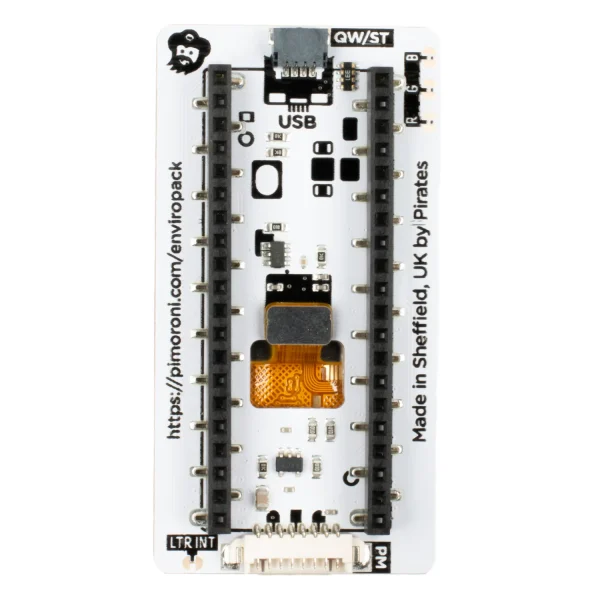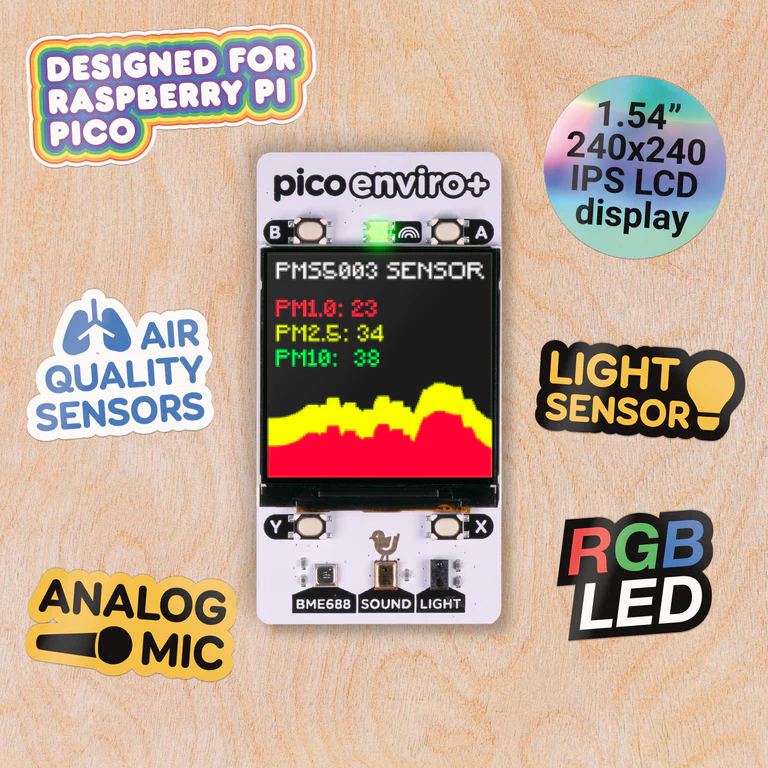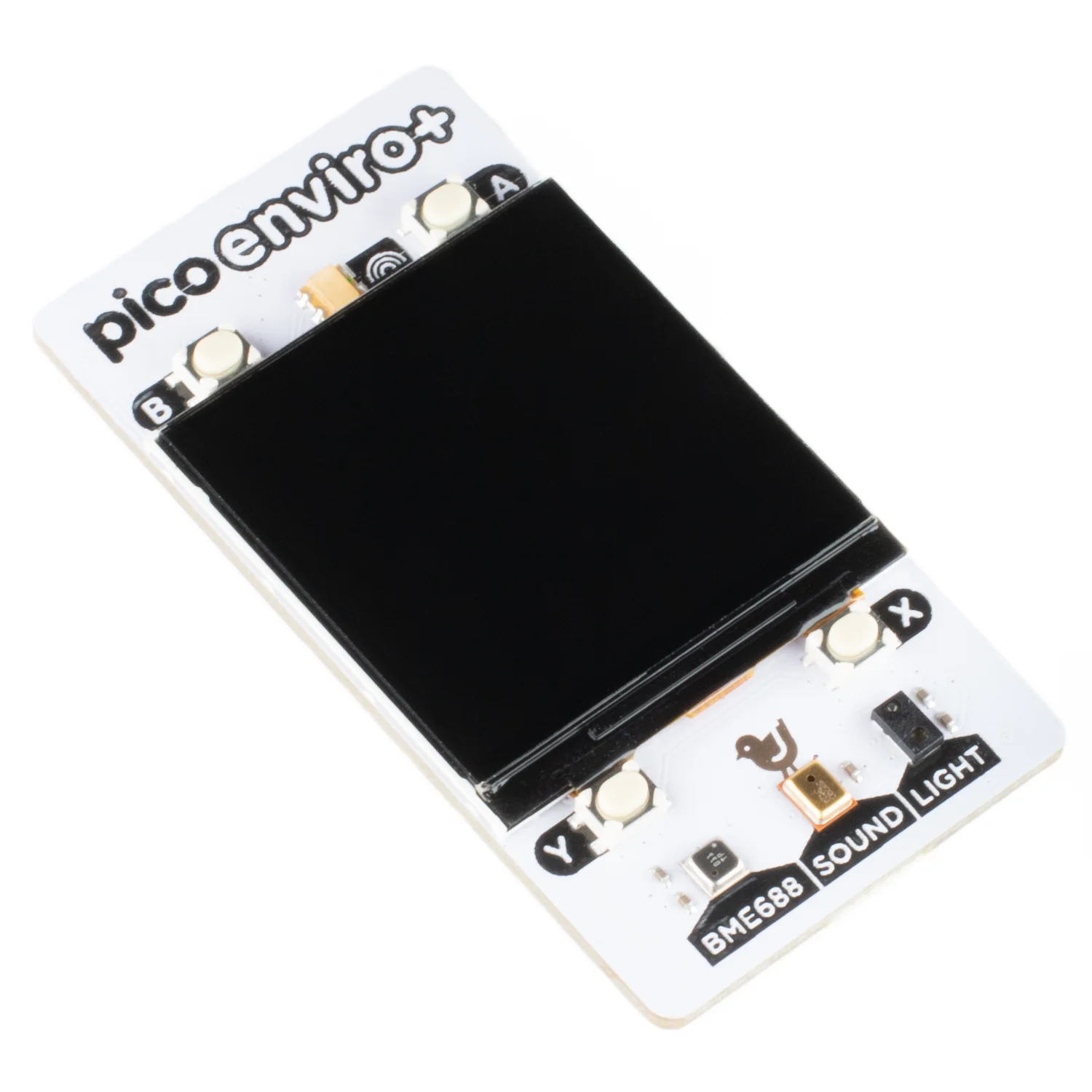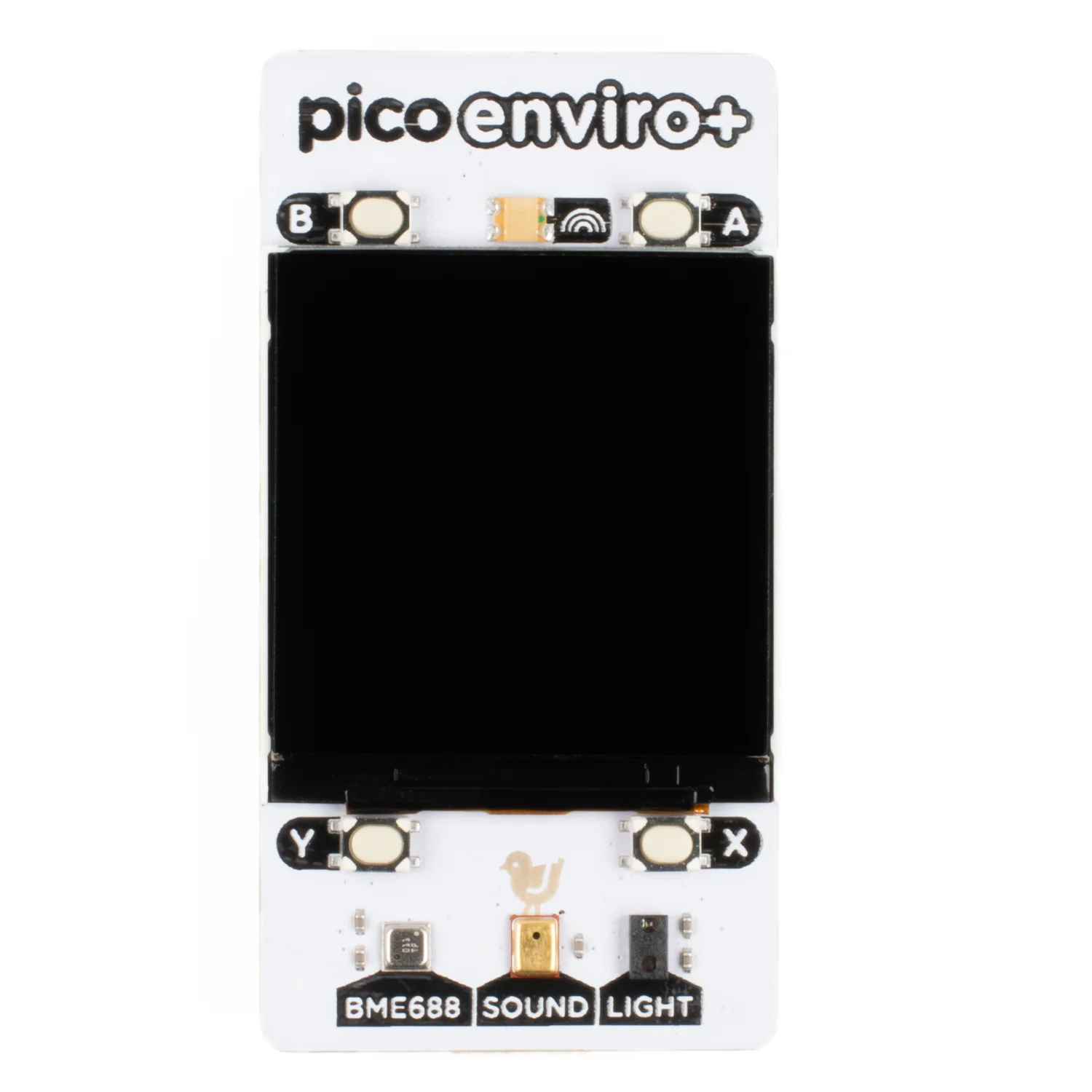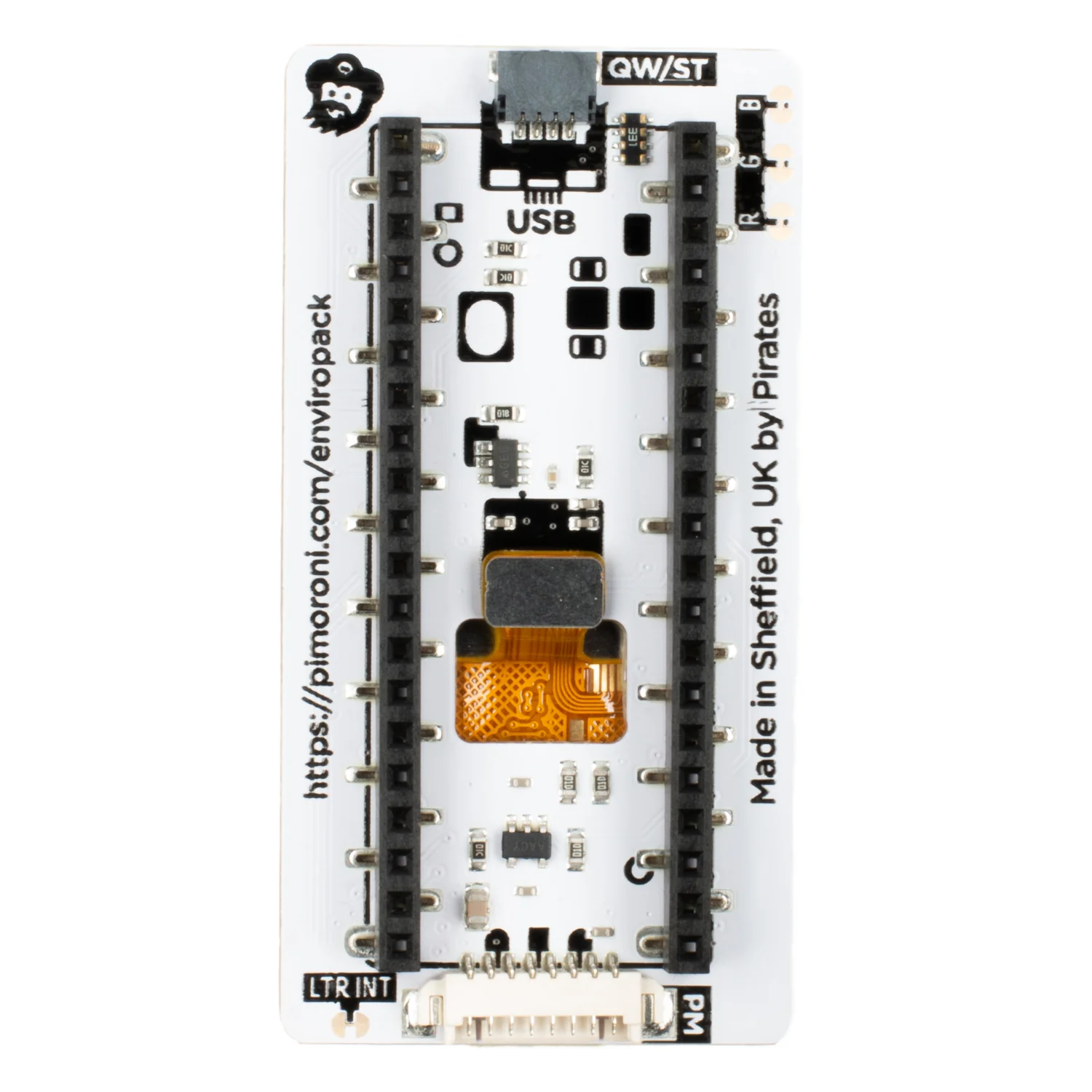 Pico Enviro+ Pack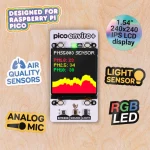 52,04 €
Informami quando l'articolo è disponibile.
Description
Additional information
Description
A fully featured environmental monitoring / citizen science add-on for Raspberry Pi Pico and Pico W. It has a built-in colour 1.54″ LCD screen and is jam-packed with sensors!
Pico Enviro+ Pack measures just 61 x 31.5 mm, but we've filled it to the brim with environmental sensors. It has similar features to the larger Enviro+ for Raspberry Pi—a weather and gas sensor, light sensor, microphone and particulate sensing*, plus a gorgeous, colour LCD – but it's built to plug into the back of a Raspberry Pi Pico (or, even better – a shiny new wireless capable Pico W).
Measure temperature, pressure, humidity and detect pollutant gases with the top quality BME688 weather sensor; measure light level with the LTR-559 light and proximity sensor and measure ambient noise level with the analog MEMS microphone. Connect up a PMS5003 particulate matter (PM) sensor (*available separately) and you can measure air quality too!
Your Pico will need to have pin headers soldered to it (with the pins pointing downwards) to attach to our add-on boards.
Features
BME688 4-in-1 temperature, pressure, humidity and gas sensor (datasheet)
LTR-559 light and proximity sensor (datasheet)
MEMS microphone (datasheet)
1.54″ 240×240 IPS LCD (connected via SPI)
4 x tactile buttons
Connector for particulate matter (PM) sensor (available separately)
Pre-soldered socket headers for attaching to Pico
1 x Qw/ST connector for attaching breakouts
Compatible with Raspberry Pi Pico/Pico W.
Fully assembled
No soldering required (as long as your Pico has header pins attached).
A Raspberry Pi Pico / Pico W is not included so make sure to grab one!
Care about air!
The original Enviro+ for Raspberry Pi was developed in collaboration with the University of Sheffield, with the aim of letting you contribute real-time air quality data from your local area to open data projects.
The alarming drop in our air quality is something that's really important to understand. Devices like Enviro+ allow fine-grained, detailed datasets that let us see shifts in air quality through time and across different areas of cities. The more devices that contribute data, the better quality the dataset becomes.
Particulate matter (PM) is made up of tiny particles that are a mix of sizes and types, like dust, pollen, mould spores, smoke particles, organic particles and metal ions, and more. Particulates are much of what we think of as air pollution. They can be measured, in size and quantity, by particulate matter sensors like the PMS5003 that you can connect to Enviro+.
Temperature, air pressure and humidity can all affect particulate levels too, so the BME688 sensor on Pico Enviro+ Pack is really important to understanding the other data that it outputs. The gas sensor function on BME688 will react to changes in volatile organic compounds (VOCs), volatile sulfur compounds (VSCs) and the presence of carbon monoxide and hydrogen to give a general measure of indoor or outdoor air quality.
Software
Our C++/MicroPython libraries include support for the screen and all the onboard sensors on Pico Enviro+. You'll get best performance using C++, but if you're a beginner we'd recommend using our batteries included MicroPython build for ease of getting started.
The PMS5003 particulate sensor (sold separately) uses a pure MicroPython driver which you will need to install using Thonny.
Notes
Measurements: 61.5 x 31.5 x 9.5 mm (L x W x H, approx)
Additional information
| | |
| --- | --- |
| BRAND | Pimoroni |
| MAINBOARD | Raspberry Pi Pico |