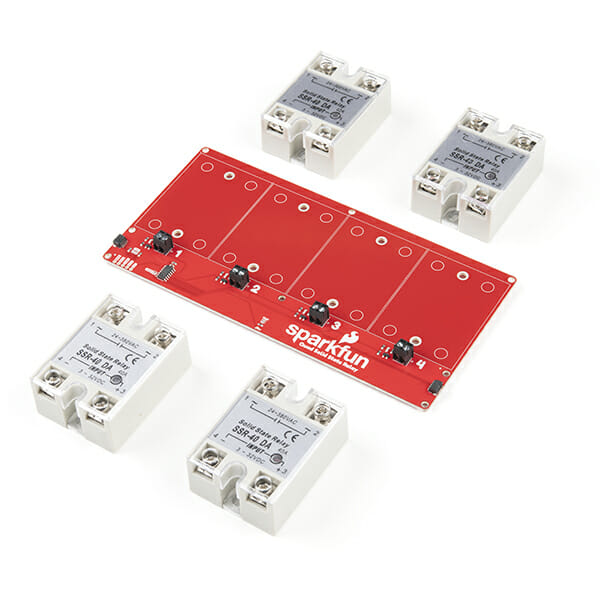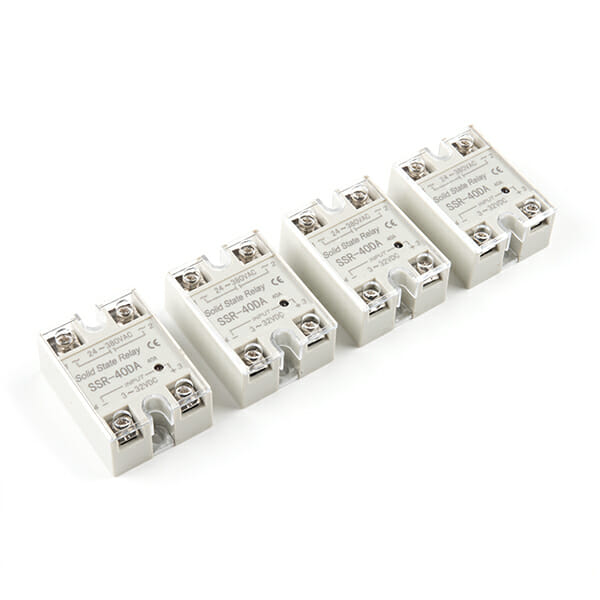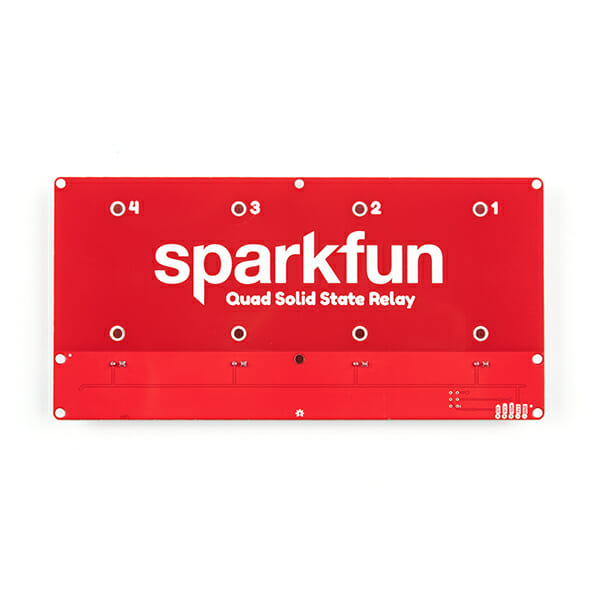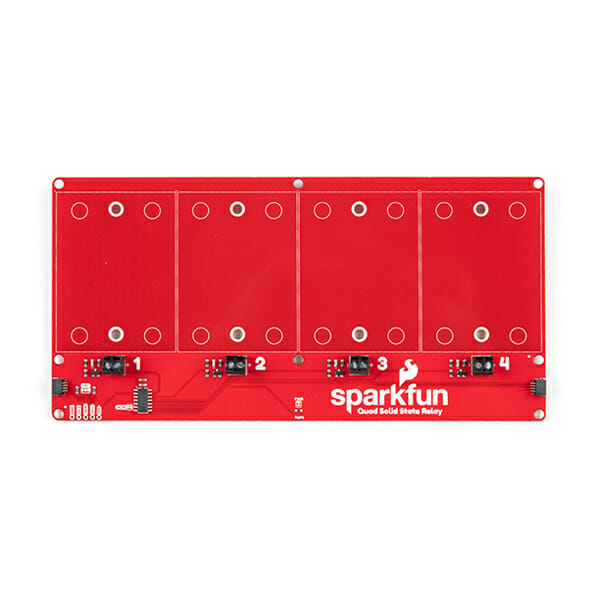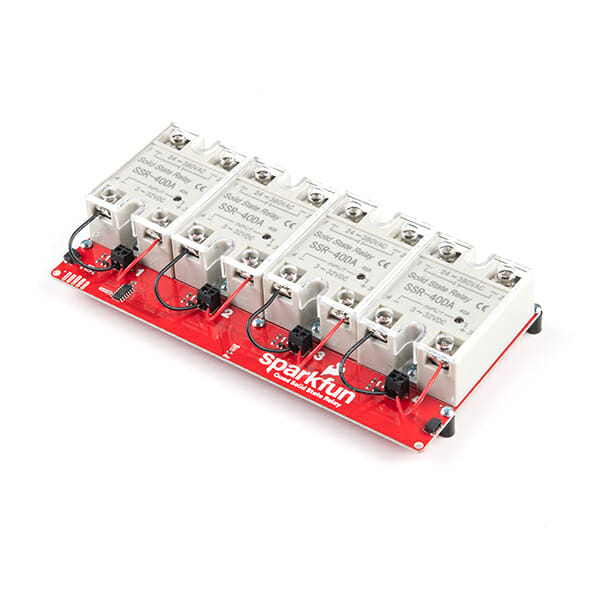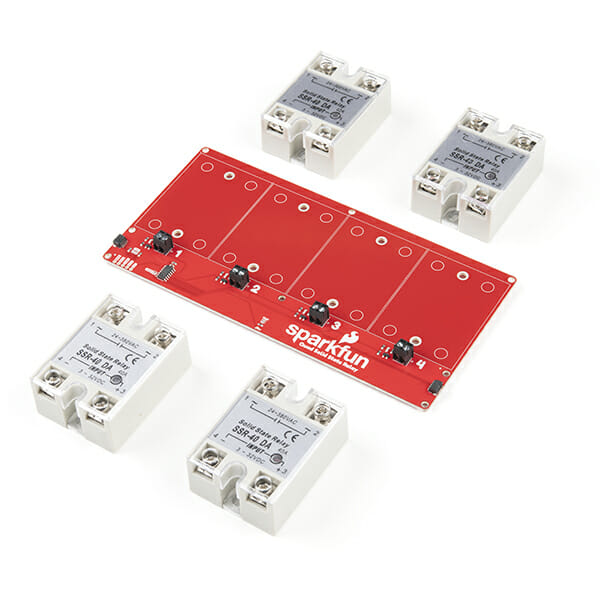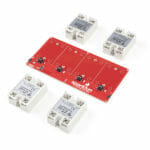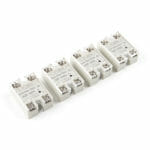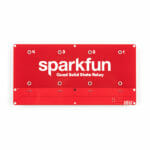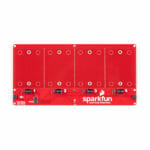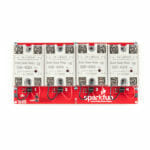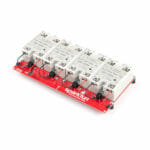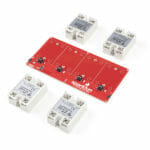 SparkFun Qwiic Quad Solid State Relay Kit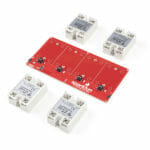 SparkFun Qwiic Quad Solid State Relay Kit
47,27 €
47,27 €
Description
Additional information
Features
Documents
Description
The SparkFun Qwiic Quad Solid State Relay Kit takes one of our favorite solid state relays and lets you place up to four of them on a single PCB to control all of them via I2C from your desired microcontroller. Each relay is rated to 40A @ 28-380 VAC so with all four on board you can control some serious power all from the easy-to-use Qwiic Connect System. The kit requires no soldering but there is some minor assembly required to attach the relays to the board and to connect your AC load.
The ATTiny84 on the board comes pre-programmed to accept various commands to toggle all four relays. The I2C address of the ATTiny84 is software configurable so so if you had the desire and power, you could daisy chain over 100 Qwiic Quad Relays (but please be aware that toggling lots of relays on a 3.3V bus can cause voltage spikes so an external power supply will be required)! In addition, the address jumper can be opened to switch the I2C address from 0x08 (Default) to 0x09 (Alternate).
Messing with such high voltage is dangerous! This is a power accessory intended for users who are experienced around, and knowledgeable about, high AC voltage. If you're uncomfortable dealing with high AC voltage, that's okay! Check out the IoT Power Relay instead. The IoT Power Relay is fully enclosed, making it a lot safer. Also, for small loads (eg. 4-10A), air cooling should be sufficient but if you are sourcing more than that, a heat sink is highly recommended. Refer to the relay datasheet for recommended heat sink dimensions.
Note: The black standoffs and 4-40 screws used to secure them shown in some of the photos are NOT included with the kit. Check out the Hookup Accessories below if you would like to include some in your order.
INCLUDES:
1x Qwiic Quad Solid State PCB
4x Solid State Relay – 40A (3-32V DC Input)
8x 4-40 Hex Nut
8x 3/8in. Phillips Machine Screw – 4-40 Thread
1x Pre-stripped Wires 2″ – 24AWG – 8 pack
Additional information
| | |
| --- | --- |
| Produttore | Melopero Electronics |
| BRAND | Sparkfun |
| MPN | KIT-16833-PT0 |
Operating Voltage: 2.5-3.6V (3.3V recommended)
I2C Address: 0x08 (Default), 0x09 (Alternate via jumper)
Max Current (Through Relay): 40A (24-380VAC)
Zero Cross Trigger
Normally Open Circuit Only