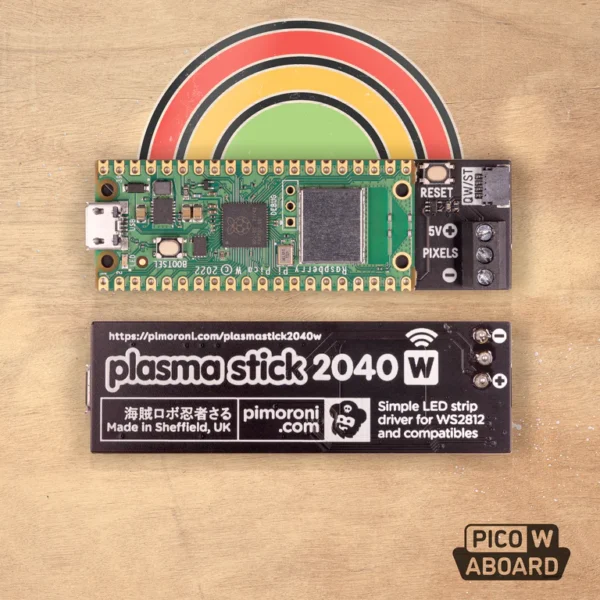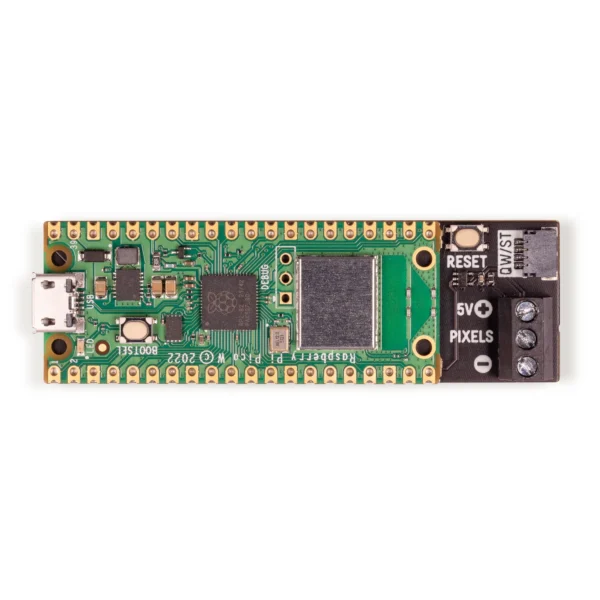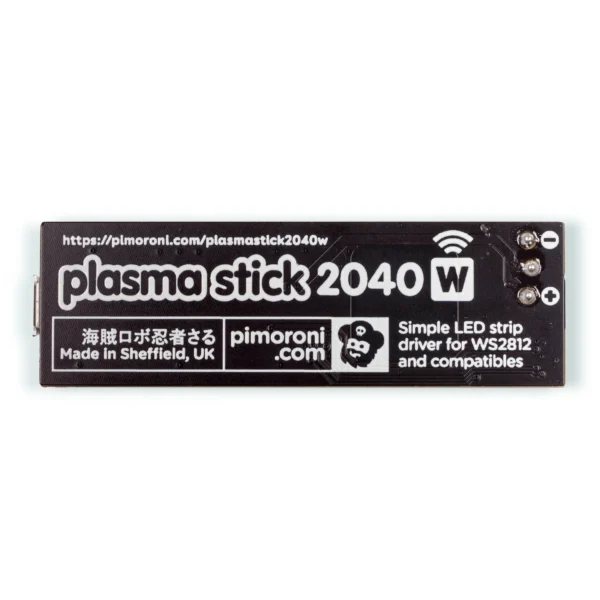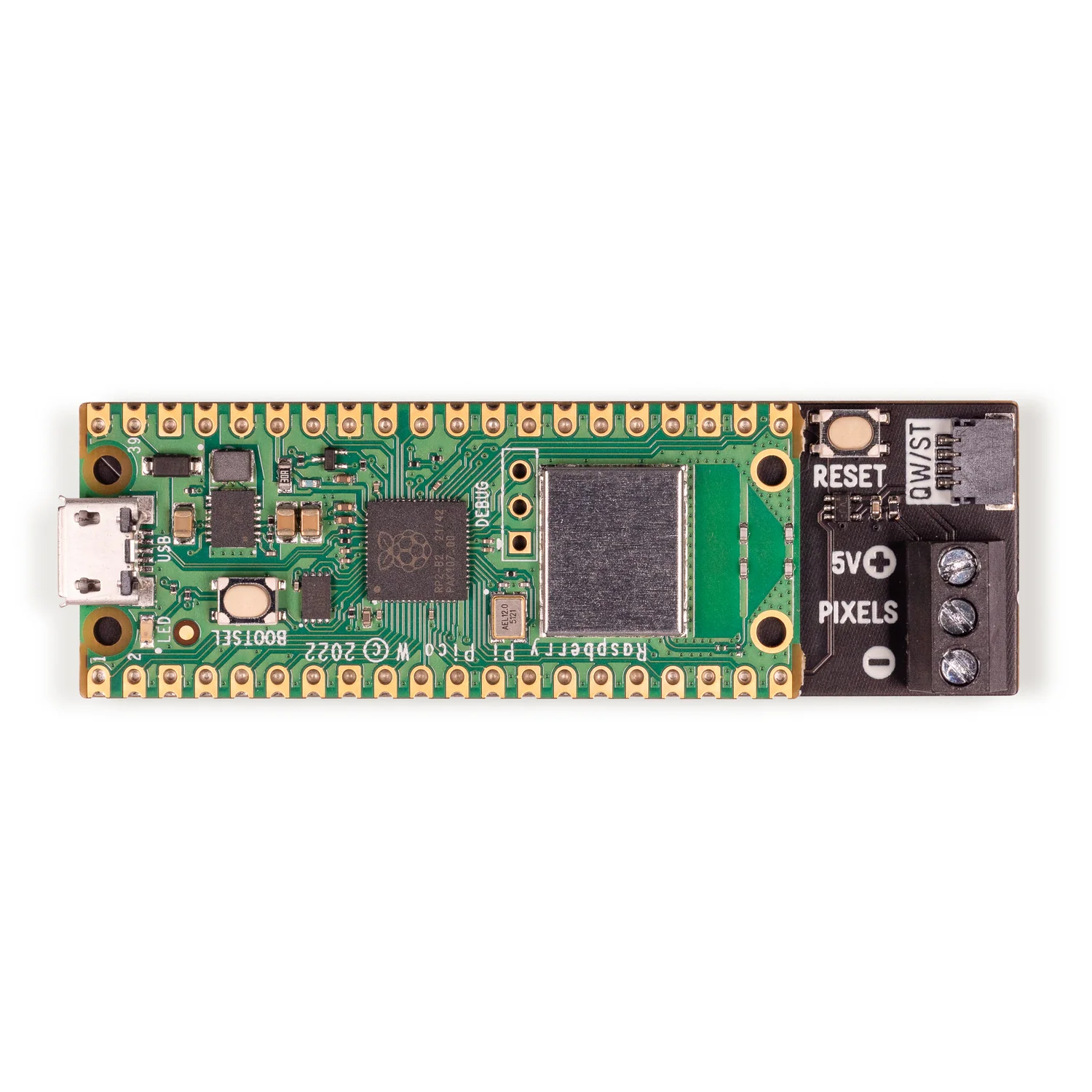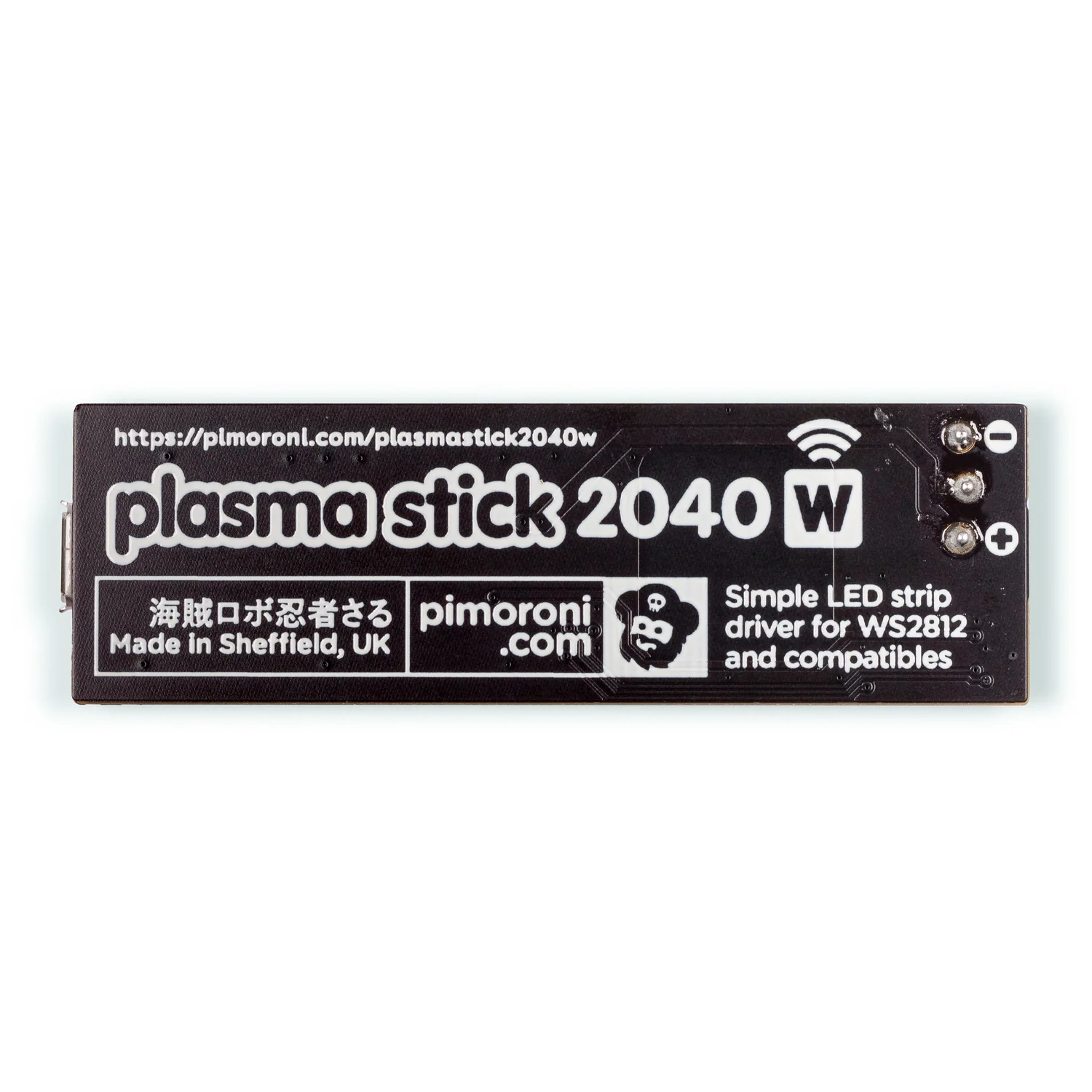 Plasma Stick 2040 W (Pico W Aboard)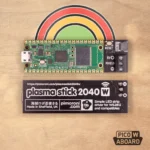 Plasma Stick 2040 W (Pico W Aboard)
18,50 €
18,50 €
Informami quando l'articolo è disponibile.
Description
Additional information
Description
This perky Pico W-powered controller for WS2812/Neopixel/SK6812 LEDs is perfect for coding up some wireless blinkenlight shenanigans.
Plasma Stick 2040 W is a simple RP2040-powered driver board designed to make playing with addressable LED strips easy peasy rainbow squeezy. We've taken a Raspberry Pi Pico W and added a set of screw terminals to make it easy to connect up your LEDs and boost circuitry so they get a nice clean 5V on the power and data lines. We've also added a reset button (because unplugging your USB cable all the time is tedious) and a Qw/ST (Qwiic/STEMMA QT) connector so you can connect it up to breakouts, all without soldering.
We've designed this board with doing cool LED things with wireless in mind, so it doesn't have all the fancy features that you can find on Plasma 2040 – if you'd prefer mod cons like current sensing, buttons, APA102/Dotstar compatibility and USB-C, take a look!
Prefer to pick up a kit that includes a Plasma Stick, LEDs and everything else you need to get going? Check out Wireless Plasma Kit!
Features
Raspberry Pi Pico W Aboard

Dual Arm Cortex M0+ running at up to 133Mhz with 264kB of SRAM
2MB of QSPI flash supporting XiP
Powered and programmable by USB micro-B
2.4GHz wireless

Compatible with 5V WS2812/Neopixel/SK6812 LEDs
Screw terminals for attaching your LED strip.
Reset button
Qw/ST (Qwiic/STEMMA QT) connector
Fully-assembled (no soldering required)
LED strip and connectors are sold separately, check out the extras tab for some options!
Software
You can program Pico/RP2040 boards in a bunch of different ways, but if you're a beginner we'd recommend using our batteries included MicroPython build for ease of getting started. We've pre-loaded Plasma Stick with pirate-brand MicroPython and some fun examples to help you get started.
Alternatively, you could install CircuitPython on your Pico W! CircuitPython is an easy to use, well-established ecosystem with lots of example code and drivers for interfacing with different kinds of hardware – and it's just got Pico W wireless support, woop!
If you're adapting examples from elsewhere and need to know the pins that Plasma Stick uses, it's GP15 for LED data, GP4 for I2C SDA and GP5 for I2C SCL.
Connecting Breakouts
The Qw/ST connector on Plasma Stick makes it super easy to connect up Qwiic or STEMMA QT breakouts.
Additional information
| | |
| --- | --- |
| BRAND | Pimoroni |
| MAINBOARD | Raspberry Pi Pico |