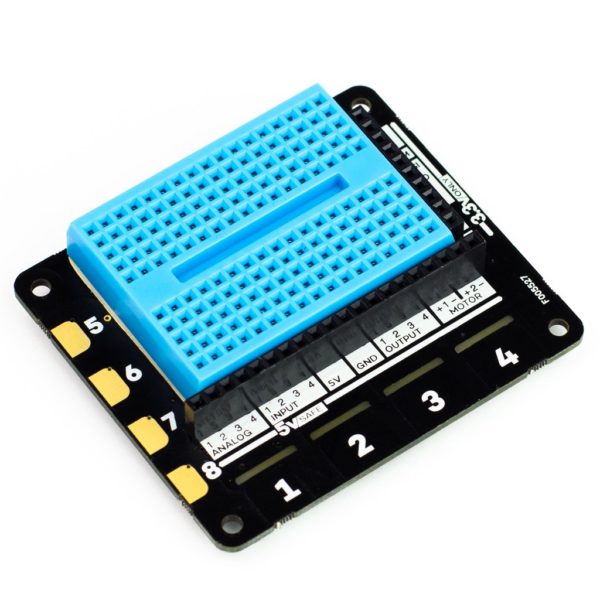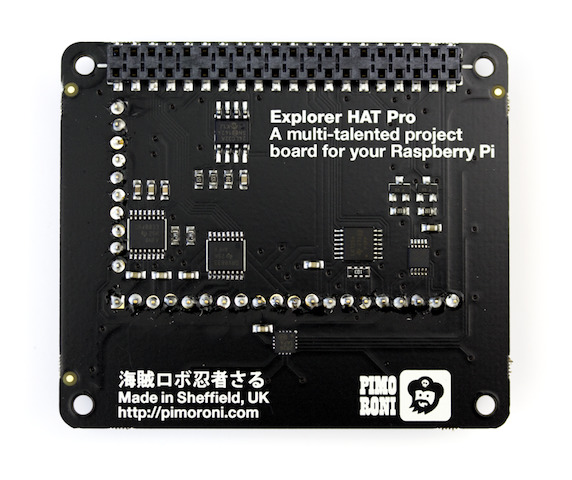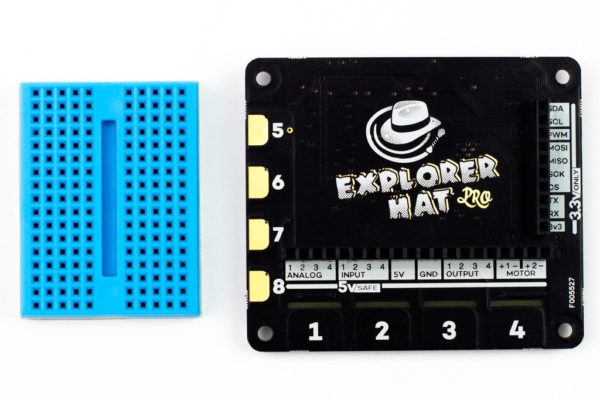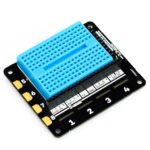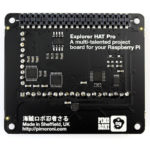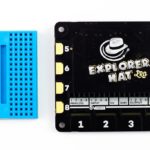 Explorer HAT Pro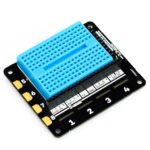 24,05 €
Description
Additional information
Description
Explorer HAT Pro adds a lot of useful tools to your Raspberry Pi.
It has digital inputs and outputs, capacitive touch pads, croc. clip compatible pads, coloured LEDs, analog inputs, motor drivers, and a mini breadboard for prototyping your projects
Great for little robots, games, science experiments, exploring small electronic circuits, and interacting with you Pi.
We've put together a handy little Explorer HAT Pro parts kit with everything you need to get started building circuits including LEDs, dials, a buzzer, and even a temperature sensor! Explorer HAT Pro also goes great with our no-soldering-required micro metal gearmotors and our STS-Pi robot kit.
Features
Four buffered 5V tolerant inputs (perfect for Arduino compatibility)
Four powered 5V outputs (up to 500mA total across all four channels)
Four capacitive touch pads (labelled 1, 2, 3, 4)
Four capacitive crocodile clip pads (labelled 5, 6, 7, 8)
Four coloured LEDs (red, green, blue, and yellow)
Four analog inputs
Two H-bridge motor drivers (up to 200mA per channel; soft PWM control)
A heap of useful (unprotected) 3v3 goodies from the GPIO
A mini breadboard on top!
Explorer HAT Pro pinout
Compatible with Raspberry Pi 3, 2, B+, A+, Zero, and Zero W
Python library
Comes fully assembled
Software
We've made it super-quick to get to grips with Explorer HAT Pro with our Python library, including a bunch of examples to show off all of Explorer HAT Pro's functions.
Notes
The inputs use a 5-channel buffer that will accept anything from 2V-5V as logic high
Mini breadboard had 170 points, 17×5 per half of the breadboard
Documents:
Product page
Software and Quick install
Tutorials: 
Explorer HAT Pro PIN entry system
Learn how to use Explorer HAT Pro to build your own PIN entry system
Making a Minecraft Thermometer
Learn how to use Explorer HAT Pro and an Analog temperature sensor to make a thermometer in Minecraft
Explorer HAT Pro Lights Out Game
Learn how to create a fun little version of the Lights Out game using Explorer HAT Pro
Controlling Your Robot: USB HID/Wireless Keyboards
This article walks you through controlling a Pi-powered Robot with a USB HID Keyboard or similar USB input device.
Explorer HAT pro 8-bit shift register
Learn how to control LEDs with Explorer HAT Pro and an 8-bit shift register
Additional information
| | |
| --- | --- |
| Weight | 0,05 kg |
| Dimensions | 5 × 1 × 3 cm |
| Produttore | Senza marca/Generico |
| MPN | PIM082 |
| Brand | Pimoroni |
| Caratteristiche | Raspberry Pi 4 |