Embit LoRaWAN Outdoor Gateway 868MHz (LTE)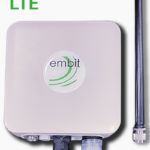 Embit LoRaWAN Outdoor Gateway 868MHz (LTE)
486,78 €
486,78 €
Description
Additional information
Description
EMB-Fem2GW-O is a multi-protocol outdoor network platform, designed
to meet IoT (Internet Of Things) and M2M (Machine-2-Machine) scenarios
in smart city environment. It enables LoRaWAN® connectivity to the cloud,
covering the role of fully compliant LoRaWAN® Gateway in the network and
city infrastructure.
EMB-Fem2GW-O provides the LoRaWAN® packet forwarder functionality:
the SX1301 radio will start to operate as a LoRaWAN® base station, receiving
radio LoRa® packets and forwarding them to a LoRaWAN® network server.
The EMB-Fem2GW-O is based on the EMBIT MiniPCI-express board
(compatible with both EMB-LR1301-mPCIe and EMB-LR1308-mPCIe). It
manages 8 LoRa® channels in order to handle thousands of end-devices. The
Embit RF design is studied to cover up to 15 km in the country side and up to
3 km in urban areas. It is available both for the EU region (868 MHz) and US
one (915 Mhz).