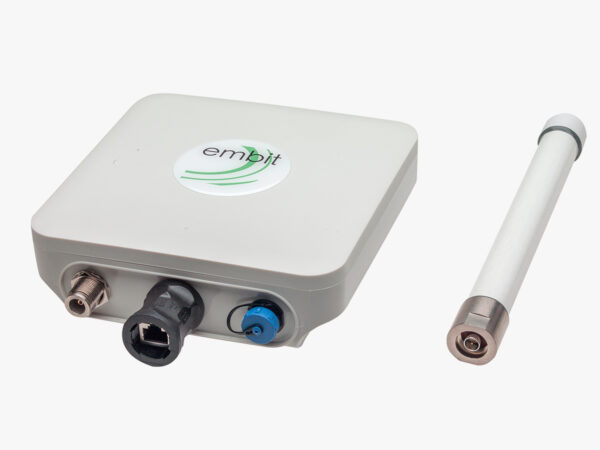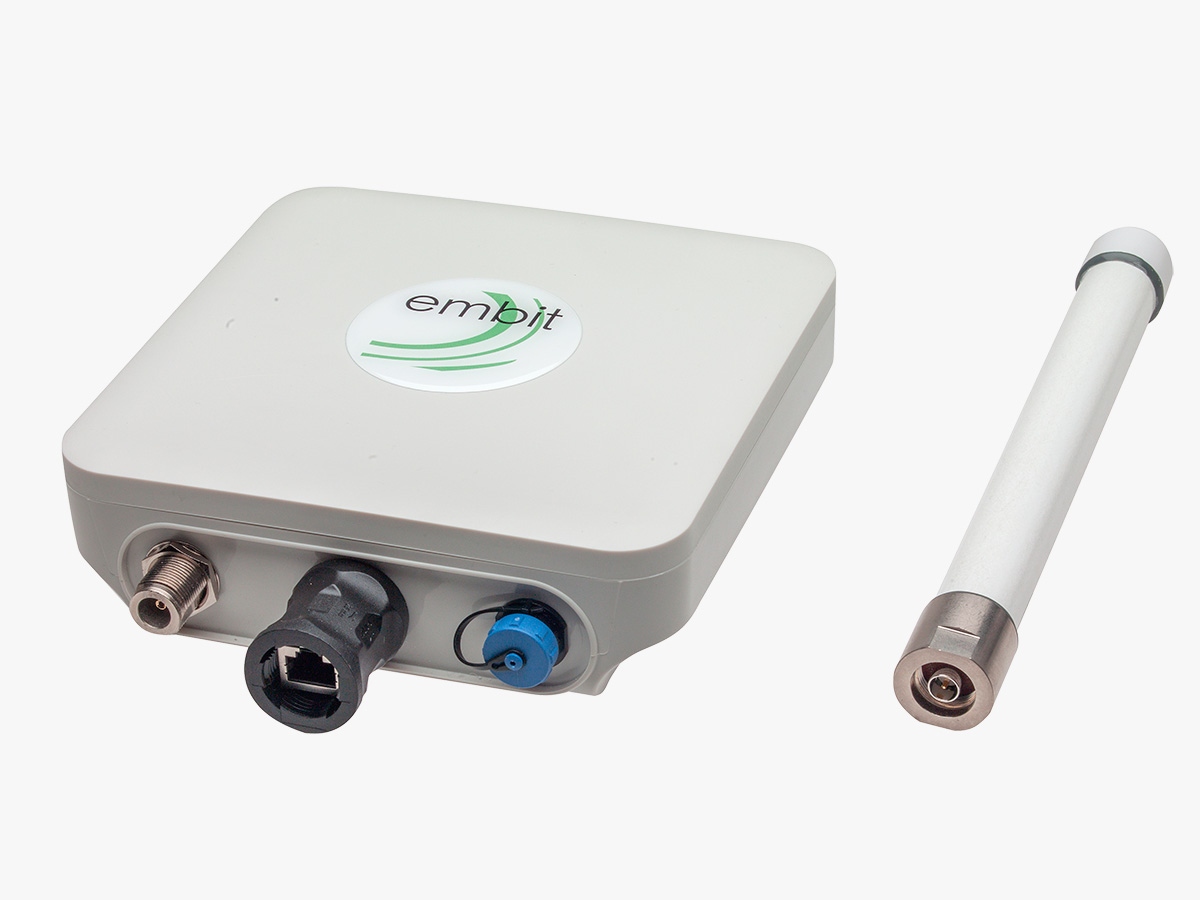 Embit Femto 2.4GHz LoRa® Gateway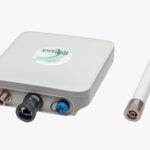 Embit Femto 2.4GHz LoRa® Gateway
Description
EMB-Fem2GW-O-2G4 is a multi-protocol outdoor network platform, designed to meet IoT (Internet Of Things) and M2M (Machine-2-Machine) scenarios in smart city and smart home environment. It enables LoRa® 2.4GHz connectivity to the cloud, being fully compliant with LoRa® 2.4GHz Semtech protocol specification.
EMB-Fem2GW-O-2G4 provides the LoRa® 2.4GHz packet forwarder functionality: the SX1280 radio will start to operate as a LoRa® base station, receiving radio LoRa® 2.4 GHz packets and forwarding them to a LoRa® 2.4GHz network server. It has a TCP/IP connection through Ethernet, or via 4G connection, available through SIM card and 4G mini PCI express module. 2.4GHz is a global ISM band, allowing this product to be easily deployed all over the world. 4G connection is adapted to the region of usage, simply substituting the mini PCI card. The gateway includes GPS connectivity to locate the device.
The EMB-Fem2GW-O-2G4 is based on the EMBIT MiniPCI-express board EMB-LR1280-mPCIe-4x. It manages 3 LoRa® 2.4GHz channels in reception and 1 LoRa® 2.4GHz channel in transmission. The Embit RF design is studied to cover up to 10 km in the countryside and up to 1 km in urban areas. In the indoor scenario, it exploits 2.4GHz RF properties and it has high immunity interference to other wireless technologies, such as WiFi or Bluetooth. 2.4GHz ISM Band does not have any kind of duty cycle restrictions and the Gateway can transmit data continuously.
The OS system is based on a Linux distribution, and customers can configure it according to their needs, with complete root access. The EMB-Fem2GW-O-2G4 provides a web interface to manage and configure the connectivity with the different network protocols. It can be powered using an IEEE 802.3af Power-Over-Ethernet (PoE) or +12/+24 VDC.
EMB-Fem2GW-O-2G4 is the perfect solution for numerous worldwide applications that require a LoRa®2.4GHz Gateway such as:
Logistic and Supply Chain
Industrial Monitoring and Control
Factory automation
Home and Building Automation
Wireless Alarm and Security System